Thursday June 13, 2013 | 07:44 AM
By now, you have probably seen the photos of distant, pristine Pacific atolls like Midway, fouled by plastic that floated in from thousands of miles away.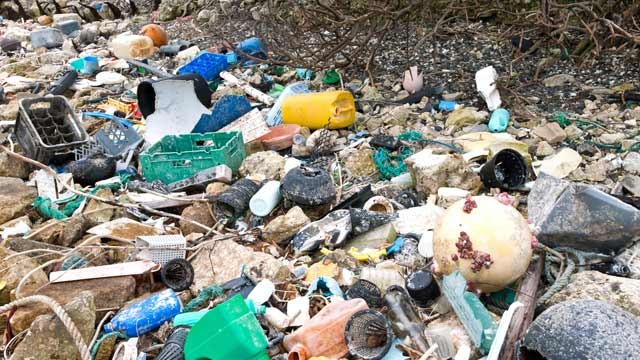 (Source)
And how that plastic interacts with the local wildlife.
It can be truly shocking, seeing a plastic culture stretching its fingers out, poisoning places where man has never even been.
But that's only the tip of the iceberg. The plastics washing in on Pacific islands are mostly only three types: #2, #4, and #5. #2 is the stuff you find in milk jugs, Clorox bottles, grocery bags. #4 is bottle caps & tub lids, sandwich bags, 6-pack rings. #5 is in yogurt cups, cutlery, straws.
What's missing from these pictures is #1, #3, and #6. #1 is PET, the stuff in soda, juice, and water bottles. #3 is PVC, which can be rigid like in pipes, or flexible like in vinyl upholstery & shower curtains. #6 is polystyrene -- found in almost all plastic toys, plus drinking cups, coffecup lids, etc.
Here's a handy guide:
(Source)
Why are those so rare out there on Pacific islands? Because #1, #3, and #6 plastics sink in seawater. Unless, say, a Coke bottle is sealed & holds its air, when it goes in the ocean it's going down. Maybe two or three miles down. Maybe more.
Part of what makes the place I collect trash from, Curtis Cove in Biddeford, special is that most of what washes in actually is from the seafloor. It's the benefit of the Gulf of Maine's shallow sea. What goes down here does sometimes come back up again. After bouncing around on the seabed for months or years. And it tells tales of what's happening down in the murk.
(fish-eaten drink bottle, #1 plastic, sinks)
(fish-eaten & poked coffeecup lid, #6 plastic, sinks)
(fish-eaten plastic glove, unknown composite, sinks)
As for places like the deep Pacific (or the open Atlantic), we have no idea what plastic is doing down there. But it's probably not good.
In the US in 2011, the plastics industry pumped out 5.48 billion lbs of #1 plastic bottles. (PDF file, see p. 7)
What if only 1/10 of 1% of those bottles -- one out of a thousand -- was littered? That's still five million lbs of littered bottles every year. Just #1 bottles (not even counting SOLO cups, milk jugs, Clorox bottles, grocery bags, polyester clothes, toys, car bumpers, etc.). Just in the US. Every year.
Every piece of litter is headed eventually for the ocean. The ocean is downhill from everywhere.
You want to know what the bottom of the ocean looks like? Believe me, you don't. (In case you think you do, here is a brief glance of an ongoing effort by the Monterey Bay Aquarium Research Institute, whose deep-sea vehicles are finding plastic more than a mile under the waves.
(plastic bag wrapped around deep-sea coral, Astoria Canyon, off Oregon, depth 6,939 feet; © 2006 MBARI, reproduced with permission)
On July 24, representatives from eight US plastics associations will be flying into Washington, DC to lobby Congress on behalf of their $380 billion industry.
Who represents the ocean? Who represents you?
About this Blog
Subscribe to
Undercurrents RSS
About the Author
Visiting a Maine beach in March 2010, Harold Johnson was shocked by the ocean-borne debris left by recent storms. He grabbed a garbage bag and a camera, and hasn't looked back.
Since then he has spent most of his free time studying marine pollution, coastal ecosystems, and the mysteries and science of ocean and shore.
Copyeditor and writer by trade, historian and archaeologist at heart, Johnson's philosophy is simple: Dig below the surface, travel the currents, make the connections, learn. Then share what you learn. He lives in Saco with his wife and young daughter. Follow on Twitter @FlotsamDiaries.
Previous entries
we value our readers and are committed to growing our community by encouraging you to add to the discussion. To ensure conscientious dialogue we have implemented a strict no-bullying policy. To participate, you must follow our
Add them below and we'll try to answer them or do a follow-up post as soon as we can.
to us with an exact description of the problem. Make sure to include: