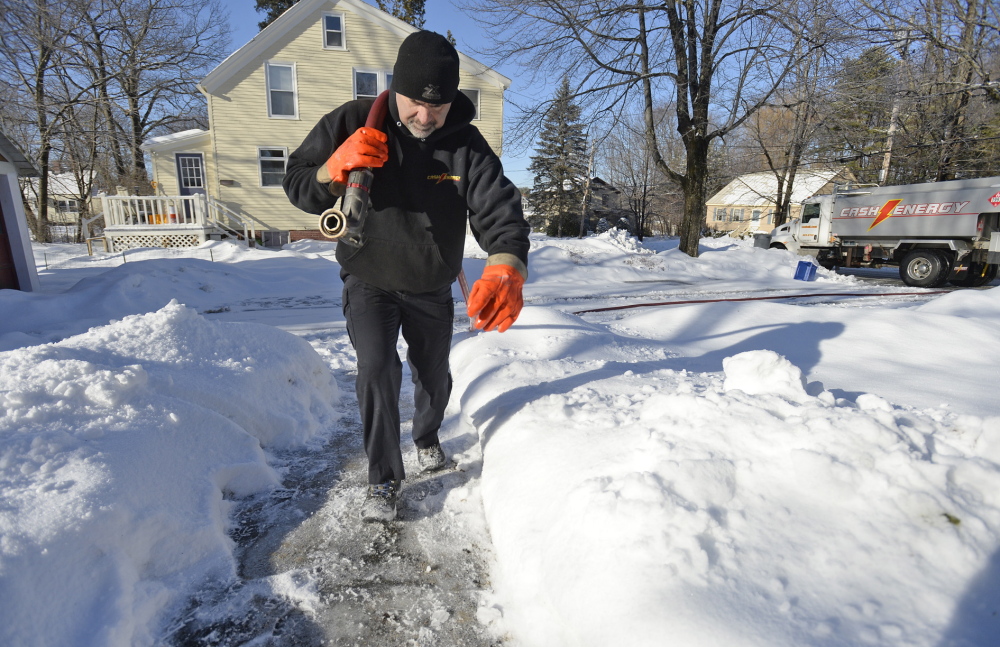 Prices will be higher and it's expected to be colder than last year's mild season, but there appear to be ample supplies of all fuel types.
A state report blames the loss of manufacturing and the middle-income jobs the industry created.

The Dwyer Group, which operates Portland Glass in northern New England, retains the 20 workers at Cumberland County Glass, including founder Ken Boucher.
More in Business
A thriving black market trade and license violations also spur the city to inspect and limit current venues.

Some brands have turned their focus to wooing buyers in their home countries rather than counting on tourists to buoy high-end purchases.

The company is dropping the Peanuts comic strip characters that for 30 years made the insurer 'more friendly and approachable.'

Shoppers in remote villages could even see their Wal-Mart products being delivered by drones.

Rates still remain near historic lows.

The number of people without checking or savings accounts declines as the recovery starts to lift those living at or below the poverty level.

Tight inventory has driven the median price of existing homes up 5.6 percent from a year ago to $234,200.

The first Reserve location, scheduled to open next year, will sell more expensive small-lot coffee, along with food from Starbucks' Italian bakery partner, Princi.

The Waterville-based chain was lauded for its charitable giving and continued growth.

Apple says it purchased the products on Amazon and later told the online retailer that they were fake.

More edibles that will get people high enough – but not too high – are expected to flood the market as marijuana goes mainstream.

The number of Americans collecting unemployment checks remains 6% down from a year ago.

The Canton, Massachusetts-based company earned $6.5 million more for the three months ending Sept. 24 than last year.

Officials hope to add a requirement for refunding fees when luggage is 'substantially' delayed.

Most districts show a modest or moderate pace of growth, the Federal Reserve notes.

Officials are investigating whether the bank violated two state laws when it created millions of customer accounts without authorization.

During its annual conference, GrowSmart demonstrates small measures that can make downtowns more inviting and less dangerous for pedestrians and bicyclists.

They're calling for uniform minimum standards for the biggest institutions so they can fend off damaging attacks and protect consumers and financial markets.

Officials say 'tens of millions of dollars more' will be invested in the overall renaissance.

Company founder and Gorham native Shawn Moody says he intends to reveal plans for the 62-acre parcel in the next few weeks.

Risbara Bros. wants to add nine buildings to the Blue Spruce Farm development, where almost 200 housing units are under construction.

During a presentation to the Westbrook Planning Board, the Dirigo Plaza development team revealed Chick-Fil-A will be joining Wal-Mart as a tenant.

A combined $14.7 billion settlement, if approved by the court, would compensate consumers and address environmental mitigation.

The report also finds that home ownership is increasingly the domain of the college-educated.

The National Marine Fisheries Service says fishermen have caught about 90 percent of their quota.

The sale of additional shares would allow the company to fully fund the $20 million building geared to producing a new product.

Investors continue trying to figure out whether the Fed will raise rates by its meeting in December.

Yet investors react favorably to the company's international progress as well as its better-than-expected U.S. showing.

A delegation studies mechanized methods to see if they can be used in aquaculture back home using equipment funded by a grant.

The small, discount grocery chain has nine locations in Maine.

A host of residents and installation companies testify against the agency's proposal to reduce net metering benefits, while utility company representatives and the LePage administration say it's time to restructure the program.

The state is 3 cents higher per gallon than the national average.

The opioid market – now worth nearly $10 billion a year in sales in the U.S. – includes a growing universe of medications aimed at treating secondary effects rather than controlling pain.

The facility is described as the first of its kind in the country.