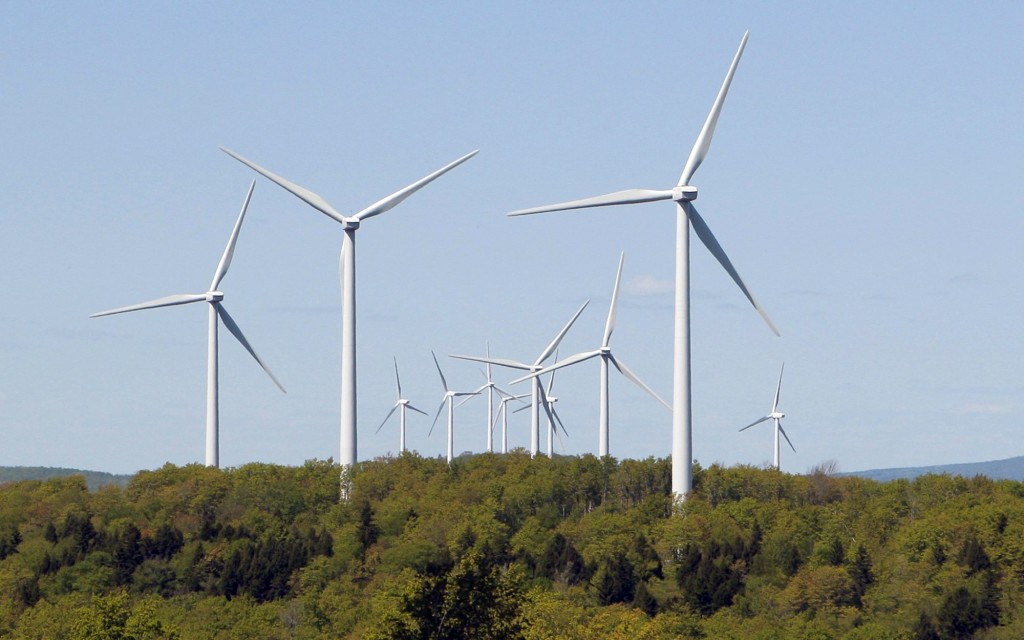 Though two large-scale solar projects in Maine are selected, two CMP projects and several wind farms in rural parts of the state are rejected by a group of agencies and officials from Massachusetts, Connecticut and Rhode Island seeking clean energy.
Educate Maine, a business group that advocates for education, said pre-K enrollments lag national and regional averages despite a wider availability of programs.

Experts say the brand's appeal, like his candidacy, may be shifting to a more middle- and working class base.
More in Business
The Gulf of Maine Research Institute commissioned the report.

The Maine-based bank's net income was up nearly 70 percent from a year earlier.

Community Health Options, a major provider under the Affordable Care Act, says it has to cut costs in 2017, but losing that benefit could hurt some women who can't afford to pay.

The company has made extensive efforts to repair the 300,000 vehicles, but some owners are hard to track and others ignore notices.

The fall occurs even as competitor Samsung has problems with its Galaxy Note 7 smartphones.

Cara Stadler says her restaurants in Portland and Brunswick will add an 18 percent surcharge to tabs and pay servers a starting wage of $15-$16 an hour.

About 475,000 owners of VWs and Audis will also be able to seek additional cash payments.

The number of homes for sale has fallen nearly 7 percent from last year, according to the National Association of Realtors.

Mark Shapp enjoys driving the buses he's ridden since he was 5 years old.

Americold wants to build a cold-storage facility at least 68 feet tall, but some residents say it would wreck their views of the harbor.

The City Council gives preliminary approval to a 180-day moratorium on recreational marijuana facilities to give it time to consider regulations – or an outright ban – on those businesses.

NHTSA calls for layered protections as it works to make cybersecurity part of designing cars in an age of computer intrusions.

She says the company received at least three reports indicating his sexual interest in children but continued promoting him as its spokesman.

Here's a short question-and-answer rundown of what the unprecedented purchase could mean.

But there is little time to persuade a small Belgian region to go along with the trans-Atlantic pact.

Integrating new Mainers into the local economy is the focus of a first-ever city conference.

Only about 12 percent of MasterCard's Portland ATMs are equipped with the high-security readers.

An Augusta jeweler is named Retailer of the Year and the number of prime-age male workers shrinks in Maine.

A book called 'O.M.G. Official Money Guide for College Students' can help.

AT&T shows it's not about to be relegated to being just a 'dumb pipe.'

The confrontation between officers and protesters lasts five hours.

Time Warner – not to be confused with Time Warner Cable – owns HBO, CNN, Warner Bros. and other properties.

Enforcement will be a challenge. Thousands of short-term apartment rentals are listed for New York City despite a 2010 law that prohibits rentals of fewer than 30 days when the owner or tenant is not present.

Friday's attacks on New Hampshire-based internet firm Dyn Inc. show 'how fragile the internet network actually is,' a former Homeland Security official says.

Dolls and action figures with disabilities and a range of skin tones mean more kids can see themselves reflected in the playroom.

The Portland animal health products maker said the money will allow it to complete a $20 million expansion.

Sales increased more than 6 percent in September from the same month in 2015, but prices rose only 1.4 percent.

The combination would remake the phone giant into a media colossus, but investors would be asked to swallow another heap of debt.

Supporters of the measure say unlicensed rentals hurt local hotels and reduce the number of affordable apartments in New York City.

Offshore herring catches finally started to surge, but lobstermen dealt with high bait prices all summer.

The long-awaited and much-debated shed will allow the rail authority to service trains overnight and add a third daily run between Brunswick and Boston.

A thriving black market trade and license violations also spur the city to inspect and limit current venues.

Some brands have turned their focus to wooing buyers in their home countries rather than counting on tourists to buoy high-end purchases.

The company is dropping the Peanuts comic strip characters that for 30 years made the insurer 'more friendly and approachable.'