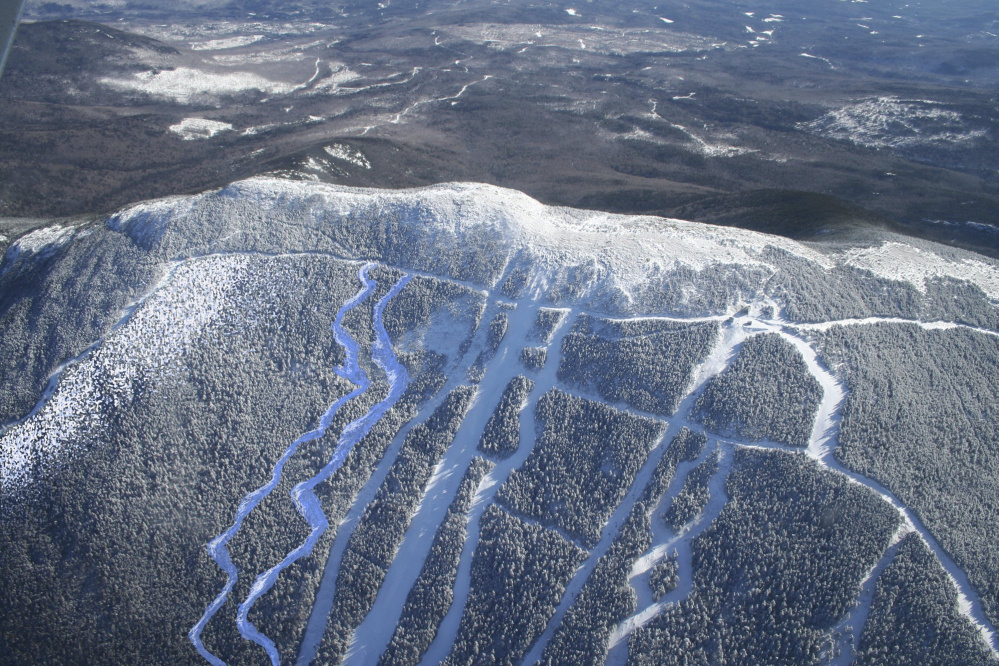 The terms include a critical conservation deal with the Trust For Public Land and the New England Forestry Foundation.
The Maine-based bank's net income was up nearly 70 percent from a year earlier.

The property at 30 Merrill St. will be turned into energy-efficient studio units ranging from 750 to 900 square feet.
More in Business
A few say the cut in income would lead to high turnover, but others think added company benefits and steady income make the change worth a try.

City Manager Jon Jennings tells a neighborhood group that the development in Bayside may be altered again, but he isn't providing details.

The Hale Group says in a new report that Maine's oyster, scallop and mussel growers could more than quadruple their products' value by 2030.

Educate Maine, a business group that advocates for education, said pre-K enrollments lag national and regional averages despite a wider availability of programs.

Though two large-scale solar projects in Maine are selected, two CMP projects and several wind farms in rural parts of the state are rejected by a group of agencies and officials from Massachusetts, Connecticut and Rhode Island seeking clean energy.

Experts say the brand's appeal, like his candidacy, may be shifting to a more middle- and working class base.

Friday's attacks on New Hampshire-based internet firm Dyn Inc. show 'how fragile the internet network actually is,' a former Homeland Security official says.

Dolls and action figures with disabilities and a range of skin tones mean more kids can see themselves reflected in the playroom.

The Portland animal health products maker said the money will allow it to complete a $20 million expansion.

Sales increased more than 6 percent in September from the same month in 2015, but prices rose only 1.4 percent.

The combination would remake the phone giant into a media colossus, but investors would be asked to swallow another heap of debt.

Supporters of the measure say unlicensed rentals hurt local hotels and reduce the number of affordable apartments in New York City.

Offshore herring catches finally started to surge, but lobstermen dealt with high bait prices all summer.

The long-awaited and much-debated shed will allow the rail authority to service trains overnight and add a third daily run between Brunswick and Boston.

A thriving black market trade and license violations also spur the city to inspect and limit current venues.

Some brands have turned their focus to wooing buyers in their home countries rather than counting on tourists to buoy high-end purchases.

The company is dropping the Peanuts comic strip characters that for 30 years made the insurer 'more friendly and approachable.'

Shoppers in remote villages could even see their Wal-Mart products being delivered by drones.

Rates still remain near historic lows.

The number of people without checking or savings accounts declines as the recovery starts to lift those living at or below the poverty level.

Tight inventory has driven the median price of existing homes up 5.6 percent from a year ago to $234,200.

The first Reserve location, scheduled to open next year, will sell more expensive small-lot coffee, along with food from Starbucks' Italian bakery partner, Princi.

The Waterville-based chain was lauded for its charitable giving and continued growth.

Apple says it purchased the products on Amazon and later told the online retailer that they were fake.

More edibles that will get people high enough – but not too high – are expected to flood the market as marijuana goes mainstream.

Many believe wood-based plastics and engineered construction materials can revive the state's forest industry.

The number of Americans collecting unemployment checks remains 6% down from a year ago.

The Canton, Massachusetts-based company earned $6.5 million more for the three months ending Sept. 24 than last year.

A state report blames the loss of manufacturing and the middle-income jobs the industry created.

Officials hope to add a requirement for refunding fees when luggage is 'substantially' delayed.

Most districts show a modest or moderate pace of growth, the Federal Reserve notes.

Officials are investigating whether the bank violated two state laws when it created millions of customer accounts without authorization.

During its annual conference, GrowSmart demonstrates small measures that can make downtowns more inviting and less dangerous for pedestrians and bicyclists.

They're calling for uniform minimum standards for the biggest institutions so they can fend off damaging attacks and protect consumers and financial markets.