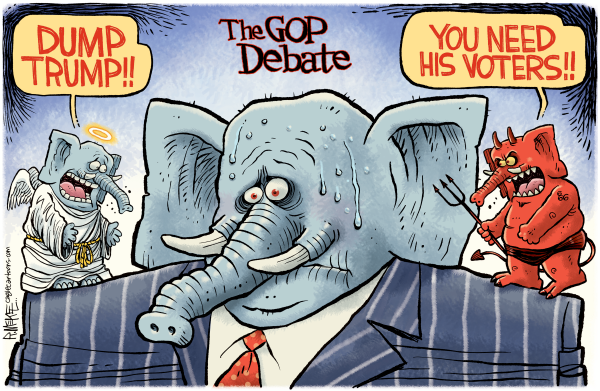 These Republican presidential squabble-debates are so worthless, so utterly devoid of value, that they make three-dollar bills look like Bob Menendez's gold bars.
How is it possible for these B-team blowhards to yammer on for two interminable hours without once mentioning that the cult's AWOL authoritarian, Donald Trump, recently pined for the execution of the chairman of the Joint Chiefs of Staff?
Wednesday night, during the second Republican presidential debate of the 2024 election, wouldn't it have been a decent gesture to at least thank General Mark Milley for his 43 years of service to his country and the Constitution? Shouldn't the hapless trio of questioners (two were Fox-related) have asked the candidates whether it's right to threaten a military leader with death? And whether it's wise to pledge support to a potential nominee who's formally accused of 91 felonies, who has been formally judged to be a sex assailant, and who, this very week, has been formally judged to be a serial financial fraudster?
Especially the latter.
Republicans have long revered private enterprise and hard-earned wealth. Yet they're poised to pledge fealty in 2024 to a fake whose purported empire has been built on a pile of sand. We know this now, officially, because a judge in New York has crunched the incontrovertible numbers and concluded that Trump is the Great and Powerful Oz with the curtain yanked open.
Turns out, Trump for years has blatantly inflated the value of his assets – everything from skyscrapers to golf courses to his Mar-a-Lago estate – padding his bottom line by billions, defrauding banks and insurance companies in the process. Judge Arthur Engoron, ruling in a civil lawsuit filed by New York's attorney general, says Trump lives in "a fantasy world, not the real world," because he has repeatedly lied in his annual financial statements, reaping rewards such as favorable loan terms and lower insurance premiums. Indeed, those financial statements "make abundantly clear that Mr. Trump was fully responsible for the information contained within" them – and the laws governing such statements do not "insulate liars from liability."
For example, the judge concluded that Trump has inflated the value of his Trump Tower triplex apartment by three times its size, resulting in an overvaluation of between $114 million to $207 million. In Engoron's words, "A discrepancy of this order of magnitude, by a real estate developer sizing up his own living space of decades, can only be considered fraud." And the judge discovered that Trump's financial statements about Mar-a-Lago were wildly amiss – "an overvaluation of at least 2300 percent, compared to the assessor's appraisal."
Somebody on the debate stage should've had the gumption to say something like this: "Back in 2016, Donald Trump's entire 'brand' was built on the false notion that he was a wildly successful multi-billionaire who'd apply his business acumen to the job of governance. Now we have learned that it was all a lie. Building a fraudulent brand is a failure of character, and we can no longer tolerate that kind of behavior in our party."
But, as expected, everyone on stage insulated the liar from liability.
Here's what the liar said on a debate stage seven years ago, during one of the autumn presidential debates: "I built a massive company, a great company, some of the greatest assets anywhere in the world worth many, many billions of dollars…A phenomenal company. And if we could run our country the way I've run my company, we would have a country that you would be so proud of."
But if memory serves, there was a candidate in 2016 who questioned whether Trump was the financial phenom he claimed to be. She said that Trump's track record was actually quite hinky (multiple bankruptcies), that he was a serial grifter (he'd "stiffed" many of his small contractors, refusing to pay them), and she warned that "sometimes there's not a direct transfer of skills from business to government," that "sometimes what happened in business would be really bad for government."
Best of all, she said this: "Maybe he's not as rich as he says he is."
On that debate stage, Hillary Clinton was right again.
Dick Polman, a veteran national political columnist based in Philadelphia and a Writer in Residence at the University of Pennsylvania, writes at DickPolman.net. Email him at dickpolman7@gmail.com,
The Conversation: Tracking daily step counts can be a useful tool for weight management — an exercise scientist parses the science
filed under: