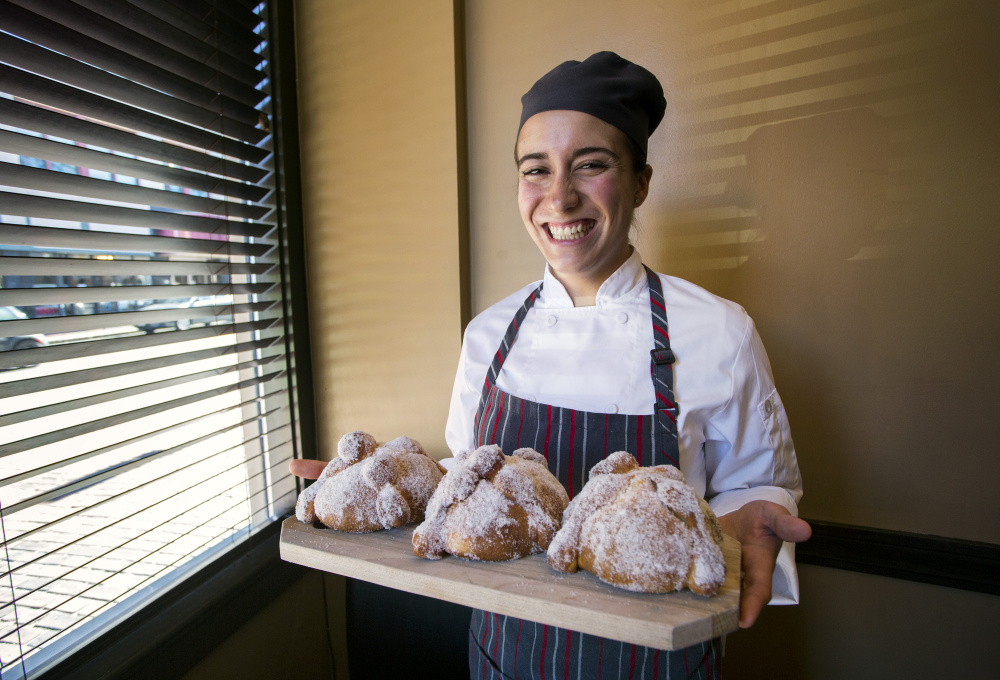 The Mexican holiday, celebrated in early November, entices the spirits of the deceased back to Earth with their favorite foods.
More in Food
Whether in curry, sandwiches, cheesecake or more, the versatile vegetable earns a big role.

Maine gets seven oysters, 18 pages and a lot of enthusiasm.

After a good coconut soak, red lentils are ready to top your rice.

They each donate something for the grand feast – vegetables, fish, beverages, maybe a lamb.

Cara Stadler says her restaurants in Portland and Brunswick will add an 18 percent surcharge to tabs and pay servers a starting wage of $15-$16 an hour.

From Buffalo to Los Angeles, regional influences give cities and states their own brands of meaty sandwiches.

The popular restaurants in Portland and South Portland will serve a limited menu through Nov. 1.

A few say the cut in income would lead to high turnover, but others think added company benefits and steady income make the change worth a try.

The company's third location will occupy a former Tim Hortons coffee shop on Route 1 near the Haigis Parkway.

A homebrewer and former Hugo's cook turns to elevated beer food.

The Maine Lobster Chef Celebration draws more than a dozen chefs and many more lobster lovers.

via www.mainetoday.com

From mashed potato pizza to poutine to maple and bacon donuts, there's plenty for foodies to get excited about.

The good old standby doesn't just swim in tomato sauce anymore.

They make a great match, especially with orzo pilaf on the side.

Warm Pumpkin-Bourbon Cheesecake will convince you.

Popping the kernels in a stovetop pot reduces cost and calories.

The late Eileen Johnson, who owned the Rock Ovens restaurant in Harpswell, fed her customers as well as she did her family.

The recipes are simple and chic, and benefit from careful shopping.

The restaurant's menu could use an update, however.

The bees weren't buzzing much in southern Maine, with some farmers reporting a total loss on their fall harvest.

via mainetoday.com

The edamame in the pod are perfect to grab to stave off hungry kiddos while dinner is being prepared.

The way the cake goes together seems odd until you grasp the thinking behind it.

Local milk is better milk, manufacturers say.

One customer started a 'Save the Duck Slider' website, others threaten never to come back if their favorites aren't on the menu.

Cheese, salsa and more make it a feast, so don't skip the garnishes.

The filling – made, basically, from anything you want – is a combination of sweet and tart.

The British chef and restaurateur marries the flavors of India and the West.

Lio, which will focus on wine as much as food, is scheduled to open next summer.

The event also features chef demos and Q&A sessions with cheesemakers.

The Portland tasting will include wines, meads, ciders, beer and spirits.

The Oct. 20 event raises money for the East Bayside Community Mosaic Mural Project.

Tickets for the Portland lessons are $35 and include dinner.

Chef Kelly Farrin is a local boy trying to appeal to the community, and maybe expand a few palates, too.

The popular pizza restaurant is taking over the former location of SoPo Bar & Grill.