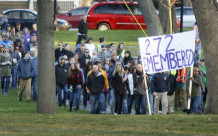 Early identification of addiction risk factors is an essential part of the opioid crisis response.
After the Indians or Cubs earn long-sought bragging rights, they don't have to stop being a lovable team.

Maine should keep the original goal of raising an additional $157 million for K-12 schools but rethink how to allocate state aid.
More in Opinion
Being Donald Trump means never playing by the rules, even – or maybe especially? – among the 'elites.'

A society that taxes inebriation to pay for public services is not functioning in important ways.

After a period of strategic cuts, it's time for Maine to invest in public higher education.

That there are few voter impersonation cases is no comfort in light of our voting machines' security issues.

October 24

The boost to $12 by 2020 would put restaurants on an even playing field.

If all dogs really do go to heaven, my beloved Fairbanks should be top dog.

The road to manhood is challenging enough without people like Donald Trump and his 'beta boys' as models.

Encouraging smiles and silliness – not in that order – is the point of this seasonal club at a rural Maine school.

The U.S. government can't do much for Mainers with Republican obstructionists like incumbent Bruce Poliquin in place.

Iran can turn to Russia for uranium and set up shop in Syria, in effect thumbing its nose at U.S. demands.

If Facebook rants and fights over bumper stickers are making you crazy, you're not alone. But election stress can be managed. Really.

October 23

A couple of spontaneous about-faces mark our columnist's foray into early voting.

Donald Trump's disrespect for the integrity of our election system finally gets our collective goat.

Being great at one thing doesn't mean you excel at everything, especially leading the nation.

The rancor will die down and life will go on, but the billionaire could face a difficult adjustment.

We urge the DEP and Regional Greenhouse Gas Initiative to consider an annual cap reduction of at least 5 percent.

The two presidential candidates' campaign rhetoric ignores today's economic realities.

The real scandal is the Democratic candidate herself and the bottomless cynicism of her campaign.

If traditional governing institutions have been gutted, filling their vacant roles will not be pleasant.

October 21

Regardless of whether marijuana should be legal, the question is whether this particular bill should become state law.

Overall turnout is consistently high, but too many of those age 18 to 29 are choosing to sit out the process.

Adolf Hitler skillfully appealed to emotions, exploiting the fears and anger of his people.

Menhaden fishermen lose money from an artificially low cap, and lobstermen pay more for the bait fish.

In a state of denial and fury, many of his faithful are ready to declare the voting results illegitimate.