In New York, he'll oversee a system with 12,000 inmates compared with Maine's 2,100 inmates.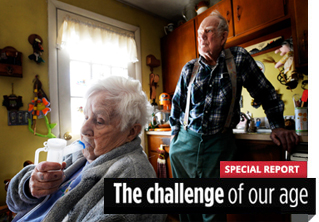 Arnold and Corinne Murray have spent years navigating a health care system that's not geared to the needs of the elderly. Their dizzying encounters with a string of doctors, hospitals and rehabilitation centers reflect the challenges of staying healthy in a state where there are not enough doctors who specialize in aging.
On St. Patrick's Day, it's generally all about the beer, but to keep up your strength, it's important to eat, too.
Seavey was the first musher under the famed burled arch in Nome.
The state's public universities need support now in order to retool for the future.
The measure would scrap the nearly century-old practice of using a 'good-soldier defense.'
e-Edition
The daily paper delivered to your computer or tablet!
Browse page by page, including stories and ads, with interactive features that make reading a breeze from wherever you are.
Already a print subscriber?
Connect your account for continued access. Not a subscriber? Become one.
Subscriptions start at only $8/month.
Hoping to read The Beer Babe, Maineiac Outdoors, Face the Music or Window to the Woods? Find them at MaineToday.com.
Blogs
Today's Puzzles
Today's Crossword Puzzle

Today's Sudoku Puzzle

Maine's Top Jobs
Purchase Photos