Wednesday, March 12, 2014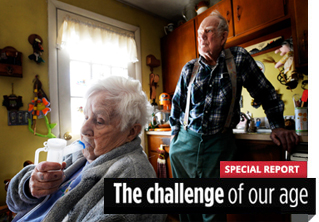 Arnold and Corinne Murray have spent years navigating a health care system that's not geared to the needs of the elderly. Their dizzying encounters with a string of doctors, hospitals and rehabilitation centers reflect the challenges of staying healthy in a state where there are not enough doctors who specialize in aging.
The Maine Forecast
This morning as you awake there are still winter storm warnings for much of Maine with weather advisories along the coast. The upcoming storm will begin in earnest...
Read more on David's blog.
Top Stories
In honor of St. Patrick's Day, we offer three families' versions of the Emerald Isle treat.
A South Portland dad enlists the aid of an old friend to raise awareness and money for his son's affliction.
The cost increase would unfairly punish those committed to green power as well as investors.
The site is near Metro-North commuter railroad tracks, off the northeastern tip of Central Park.
e-Edition
The daily paper delivered to your computer or tablet!
Browse page by page, including stories and ads, with interactive features that make reading a breeze from wherever you are.
Already a print subscriber?
Connect your account for continued access. Not a subscriber? Become one.
Subscriptions start at only $8/month.
Hoping to read The Beer Babe, Maineiac Outdoors, Face the Music or Window to the Woods? Find them at MaineToday.com.
Blogs
Today's Puzzles
Today's Crossword Puzzle

Today's Sudoku Puzzle

Maine's Top Jobs
Purchase Photos